[MGBK-136D] Naipo Shiatsu Back Massager Cushion Lumbar Back Massage with Heat and Deep Kneading for Car, Home, and Office Use
48% Off
Hurry, there are only item(s) left!
Description
8 3D ROTATING MASSAGE NODES - They simulate the vigorous penetration of a real back massage hands of masseuse, very good for relieve your tightest knots, soothing away your tension and muscle aches.
MULTI BODY AREA MASSAGE - It is not only suitable to massage lower back, but also to upper back, calves, arms, thighs, legs and feet.
HEAT FUNCTION - The surface of the massage nodes can be heated to around 113 F which will help you to effectively soothe tired muscles and improve blood circulation.
ERGONOMIC DESIGN - Made of soft leather, the Naipo Lower Back Massager will fit perfectly in any chair to calm and reinvigorate you.The handle makes it easy for you to use on many parts of your body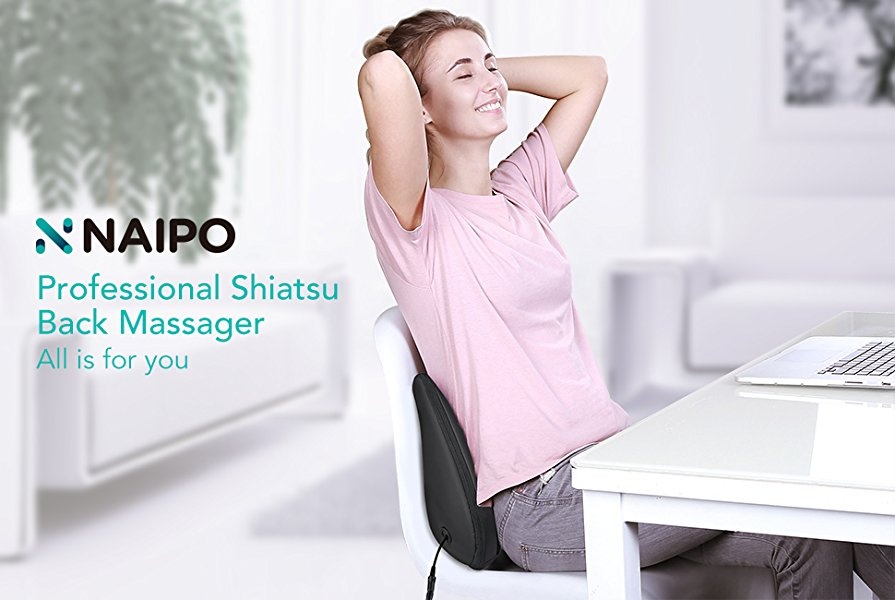 About Naipo With more attention than ever on improving well-being, massage has become a popular treatment. At Naipo, we provide every one of our customers with the most innovative, relaxing, and therapeutic, healthy and personal care products. Naipo works diligently to make sure each of our products are available at a price you will appreciate. We're committed to creating useful products backed by friendly, responsive service to delight our loyal customers around the world.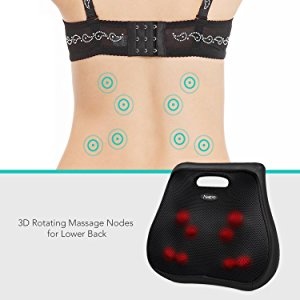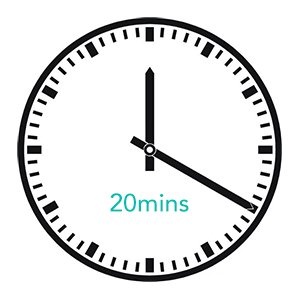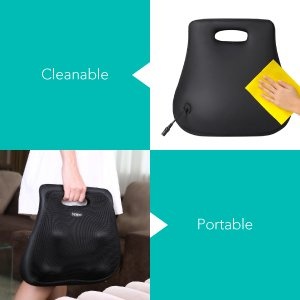 Massage to the Whole Back Back Massager will as a professional massager in your daily life and relief your tired and aching muscles to improve blood circulation that good for your sleeping and health. It also makes you relaxed all day wherever at home or in the office.Safe to Use The massager is equipped with an overheat protection and programmed with a 20 minutes auto shut-off switch, because long time massaging on the same position may make the temperature is too high and hurt your skin.Easy to Carry & Clean Ergonomic design with the convenient handle is extremely portable as you can carry it easily from your home to your car, office and wherever else you want to go. Besides, the soft leather and breathable 3D mesh fit perfectly not only refresh you but also easy to clean.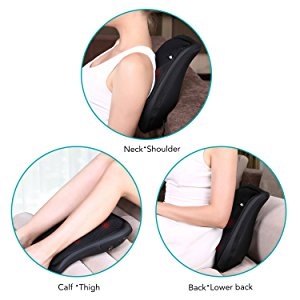 Attention:1. Don't use it while driving 2. Keep away from water when you clean it 3. Don't massage the same area of body for long time 4. Connect the cord correctly, push it harder until you heard the sound of "click"
Text
Tab's Text Content goes here!
You can make text bold, italic or add link using rich text editor.
HTML
Tab's HTML
content

goes here!
You may also be interested in the following product(s)